The USB-COMi-M USB to RS-232 / 422 / 485 Serial Adapter is designed to make quick and easy serial port expansion in a commercial or industrial environment. Using your computer's host USB port or an active USB hub connection, the USB to Serial Adapter instantly adds an RS232, or RS422, or RS485 serial communication port to your system. The USB to RS-232 Serial Adapter is designed with easy mode switching via DIP switch and installs using Plug-and-Play features with hot plug functionality.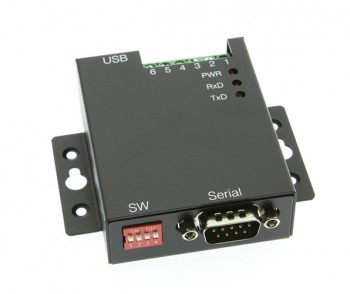 The adapter is powered by the USB port and no external power adapter is required. The adapter is designed with an external 4-pin dip switch to set RS-232, RS-422 or RS-485 mode conveniently, without the need to open the metal chassis. Both a 6-pin terminal block and a DB9 male connector are available for optimal flexibility for serial connection.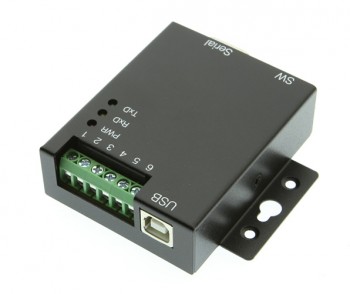 This USB to RS-232 / 422 / 485 adapter also provides a unique feature of supplying power output of 5V/150mA through pin-5 of the terminal block to serial device and is with DIN rail bracket for industrial environment. Termination and biasing options are available for data transmission lines.
The USB-to-RS-232 / 422 / 485 Adapter provides instant connectivity to RS-232, RS-422, RS-485 communication devices for POS, factory automation equipment, multi-drop data collection devices, bar code readers, time clocks, scales, data entry terminals, PC to PC long distance communications, ATMs and serial communication in harsh environments. The USB-COMi-M USB to Industrial I/O provides industrial solution requiring single node or multi-drop communications over short and long distance.
Additional Features:
Adds one RS-232, RS-422 or RS-485 serial port by connecting to a USB port
One DB9 male connector & one 6-pin terminal block for optimal flexibility of serial connection
Supplies power output of 5V, 150mA through pin-5 of terminal block
No need to open chassis to set operation modes-one external DIP switch for easy RS-232, RS-422, RS-485 mode settings
Installed as standard Windows COM port
SECC metal chassis with DIN rail bracket
Full RS-232 modem control signals and hardware/software flow control
RS-232 data signals: TxD, RxD, RTS, CTS, DSR, DTR, DCD, RI, GND
RS-422 data signals: TxD-, TxD+, RxD+, RxD-, GND, RTS-, RTS+, CTS+, CTS-
RS-485 4-wire data signals: TxD-, TxD+, RxD+, RxD-
RS-485 2-wire data signals: Data-, Data+
Automatic transmit and receive control for 2-wire RS-485 half-duplex mode
Built-in termination and biasing
High speed serial port with the baud rate up to 921.6K bps
Non-standard baudrates supported
LEDs of Power, TxD and RxD for easy port monitoring and diagnostics
Serial port protected with surge protection of 10KV
Powered by USB port, no external power adapter required
Easy plug and play installation and RS-232/RS-422/RS-485 device connection
COM port number assigned can be changed to any COM port number required
Works with USB 1.1 & 2.0 host port
OS Support:
Windows 7, Windows 8, and Windows 10
Linux and Mac OS 10.X
Package Contents
USB tp RS232 selectable adapter
USB 2.0 A to B cable
Driver disc